Lodging an insurance claim is something you hope you never have to do. In fact, making a claim is considered to be one of the lowest points in an insurance customer's experience.
To improve the online claim experience (online claim completion rates were as low as 25-35%) and reduce claims made through staff-assisted channels, I guided the NRMA and Velvet Onion team through a series of design sprints testing a number of new design concepts.
Support during times of need
NRMA Insurance, part of the Insurance Australia Group (IAG), is an Australian insurance provider. NRMA offers car, home, business, and other insurance products to customers in NSW, QLD, ACT & TAS.
In the event a customer needs to lodge a claim, NRMA provides the option to lodge a claim online or through a staff-assisted channel - in a branch or over the phone. At the time, online claim completion rates were as low as 25-35%, with many customers struggling to complete their claim online and reverting to a staff-assisted channel.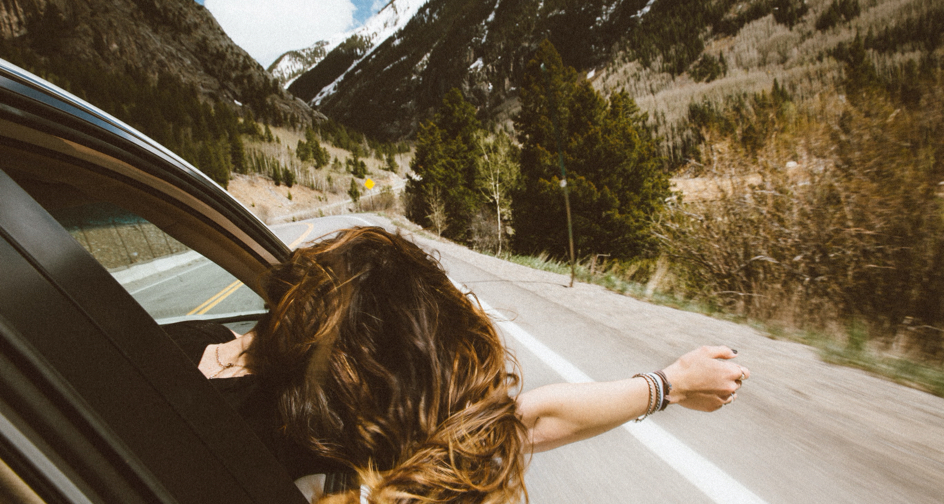 Photo by averie woodard on Unsplash
In order to increase online claim completion rates and reduce claims made through staff-assisted channels, the online claim experience required significant improvement.
The objective for this project was to design and validate a new online car insurance claim process. Starting with car insurance claims, our recommendations would ultimately be implemented across all online claims (including car and home) as well as the online claims tracking process.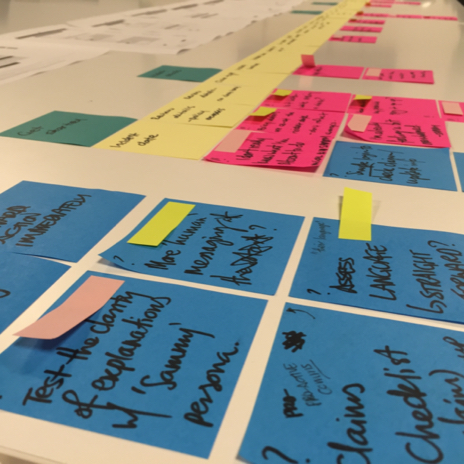 Working closely with the NRMA team, I was responsible for establishing the project objectives and strategy, and educating the team and their stakeholders on the design sprint approach.
I then guided members of the Velvet Onion team in the discovery process and through each design sprint, helping identify and prioritise opportunities, providing input into design concepts, and supporting the team through the validation activities including recruitment, facilitation, and analysis.
The project started with a short discovery phase, reviewing the existing claims process as well as research from NRMA's CX and UX teams. This formed a backlog of design challenges, which were prioritised and determined the focus of each subsequent design sprint.
Each sprint was a week long, starting on a Monday morning and ending on a Friday afternoon, and started with a review of the design challenges that had been prioritised for that sprint. Members of the NRMA team were actively involved in exploring each design challenge, providing invaluable context and sketching potential solutions. These were developed into concepts by Velvet Onion, and reviewed with the wider NRMA team.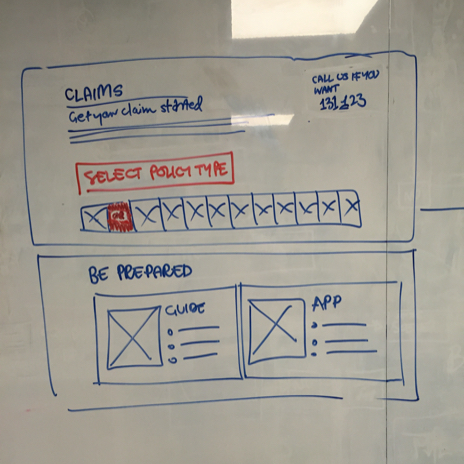 A prototype was developed, incorporating the design concepts and feedback from the team into an end-to-end claims process. This was then used to validate the design concepts with real customers at the end of each sprint. As with the initial exploration, the NRMA team were actively involved in the validation activities giving them first-hand experience with how customers were responding to different concepts.
The initial car insurance claims project was 6 sprints long, culminating in a report summarising key findings and tactical level recommendations in addition to the final prototype.
The car claims project was the first time Velvet Onion had utilised design sprints as part of our design process, and was well received by the NRMA team, who were amazed that we had an end-to-end prototype incorporating some of the new design concepts in front of real customers within the first two weeks of the project.
The project was extended to include the online home insurance claim process and online claims tracking experience, following the same process. In 15 weeks, we were able to test a variety of design concepts with over 50 customers, resulting in a number of key findings and tactical level recommendations implemented by NRMA.
While challenging at times, the level of engagement with the NRMA team throughout the process was a critical factor underpinning the overall success of the project. Having contributed to the design concepts during the initial exploration, they understood the rationale for various design decisions and were able to provide more valuable feedback during the design review. Similarly, through observation of validation sessions they had first-hand experience with how customers were responding to different concepts, allowing us to make quick decisions bring learnings into subsequent design sprints.
Finally, I am particularly proud of the impact that this project had on the Velvet Onion team. This was Tim's (a designer at Velvet Onion, and the lead designer on this project) first experience working with a truly lean and agile form of design delivery, which he later described as "one of the most formative experiences in my design career."